What Is Androgenetic alopecia In Women?
Androgenetic alopecia is male-pattern hair loss resulting from an interplay of genetics and hormones. This type of hair loss is not considered to be a disease but rather a natural condition. Androgenetic alopecia in women is similar to male-pattern hair loss but it has distinctive features and is called female-pattern hair loss. Although men more frequently suffer from hair loss issues, female-pattern hair loss affects women, too, especially after menopause. Women will experience androgenetic alopecia after menopause because of hormonal changes and the aging process.
The main difference between these two types of androgenetic alopecia is the hair loss pattern. Male pattern hair loss is characterized by a receding hairline, progressing to bald spots on the crown. However, androgenetic alopecia in women typically presents itself with diffuse hair loss all over the scalp, and it is not typical of it to result in complete baldness. Hair thinning may also be noticeable at the center of the head. Women experience both hair thinning and hair shedding but hair thinning is also very typical of female-pattern hair loss due to the general weakening of hair follicles.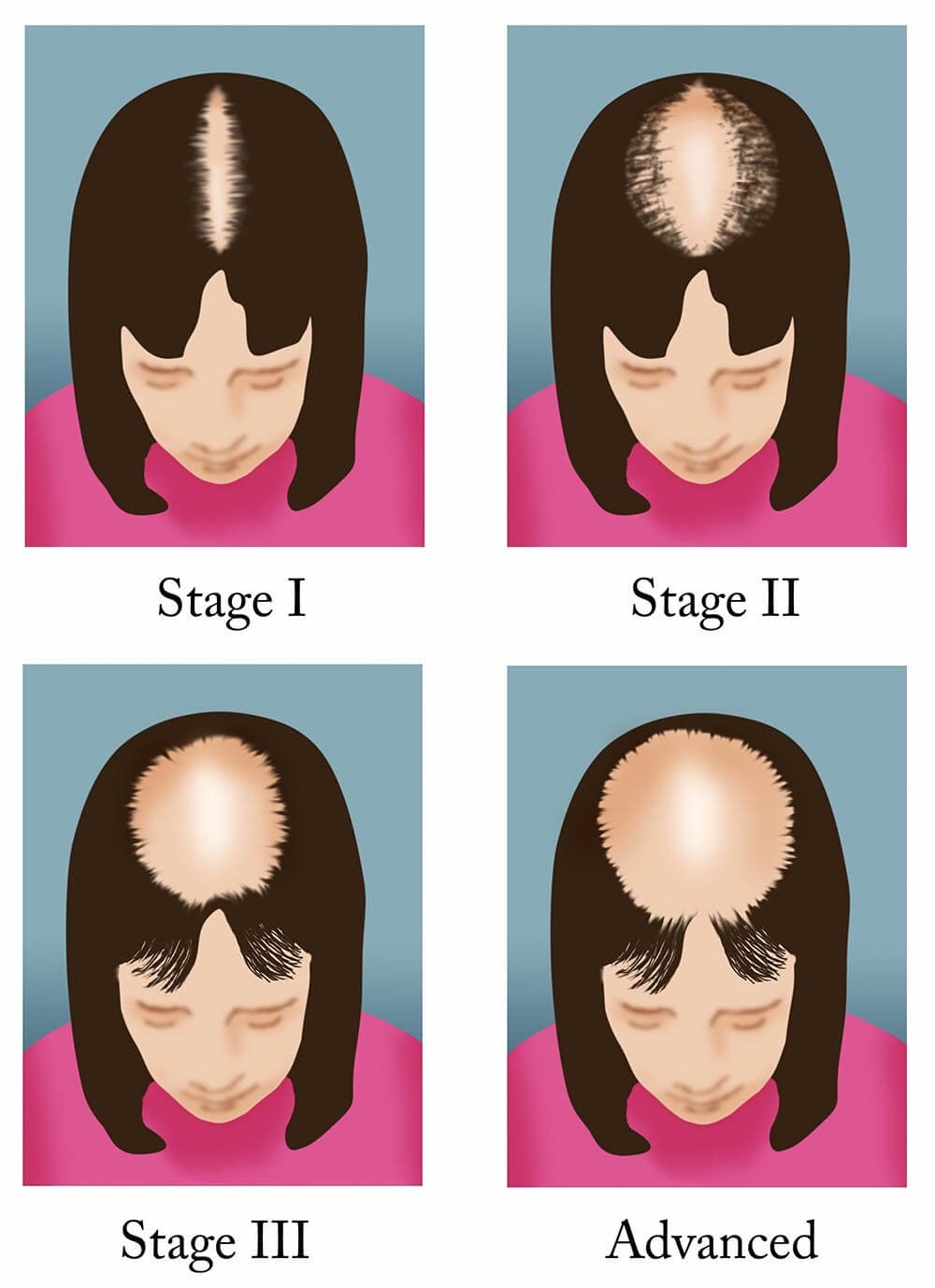 Causes Of Androgenetic alopecia In Women
Androgenetic alopecia occurs in the same way the male-pattern hair loss does. Actually, hair follicles follow a hair-growth process consisting of three phases. In the anagen phase, the hair follicles keep growing for 2 to 6 years. The Catagen phase is a transition phase in which hair follicles stop growing. The telogen phase is the phase where hair follicles go into resting. And lastly, the hair follicles go into the exogen phase where they start to fall out. If the hair follicles spend less time in the anagen phase and do not regrow after the exogen phase, you will have hair loss issues.
Androgenetic alopecia in women may occur as a result of various reasons but it is not possible to set one definite cause for this problem. Researchers think that women may be genetically predisposed for this type of hair loss, just is the case with men. If their hair follicles are sensitive to androgens, they will get weak as androgens accumulate and cause damage to hair follicles.
In addition to genetic predisposition, and androgenetic alopecia after menopause, excessive production of androgens, androgen-secreting tumors, hormonal disorders can also contribute to androgenetic alopecia in women. So androgens, male hormones, play a major role in this type of hair loss. Also, the aging process may result in female-pattern hair loss. Your hair follicles will get weaker after menopause and will grow more slowly than before.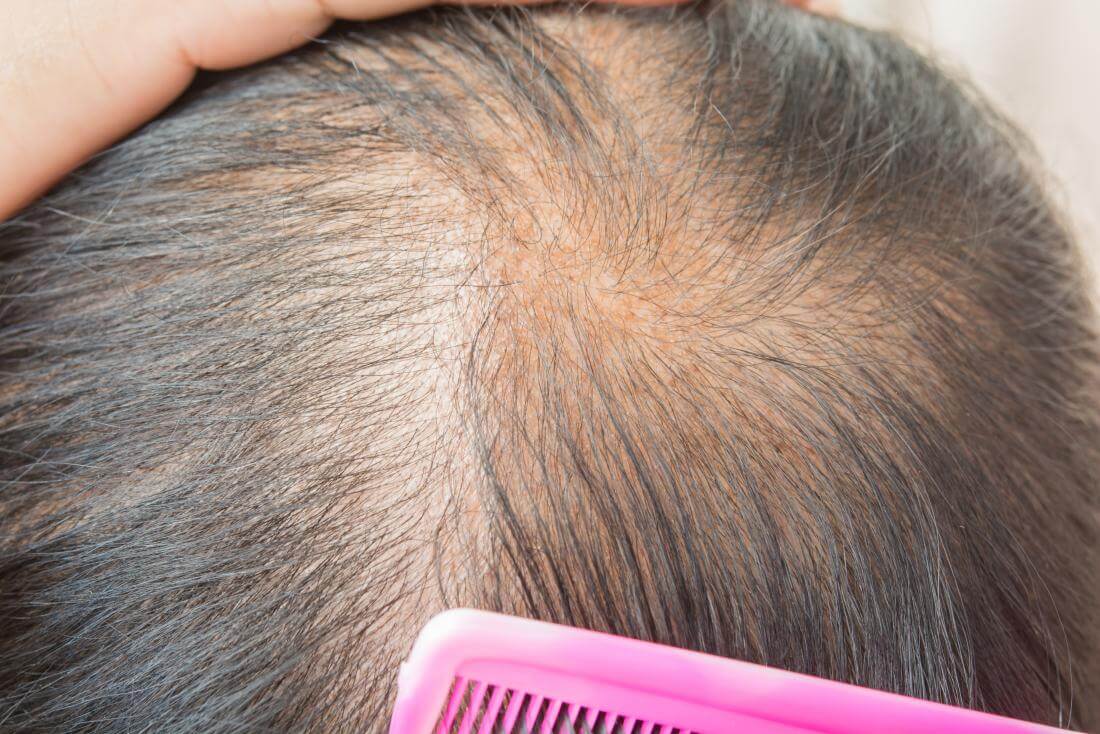 Treatment Of Androgenetic alopecia In Women
Androgenetic alopecia in women does not require urgent treatment in many cases. If hair loss is not noticeable, you can easily cover your hair with the right hairstyle. But if you have advanced hair loss, you may need more aggressive treatment with either medications or surgery.
Minoxidil
Minoxidil is one of the useful drugs to treat female-pattern hair loss. This medication is directly applied to the scalp every day. Even though it will not completely stop hair shedding, it will stimulate hair growth and will help increase the hair density. It will take minoxidil to show its full effects about 6 to 12 months. These medications can cause side effects such as redness and itching.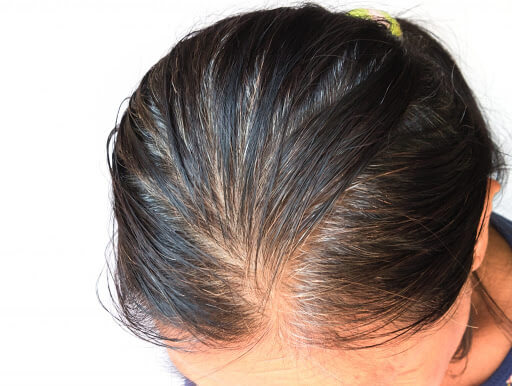 Finasteride and dutasteride
Finasteride and dutasteride are used to treat male hair loss and have are not approved by the FDA for female-pattern hair loss. But some women can benefit from them due to the role of the DHT hormone in female-pattern hair loss. Their side effects include rash, hot flushes, low sexual drive, and headache.
Spironolactone
Spironolactone is a diuretic and reduces the amount of water in your body. It is used against high blood pressure and also inhibits androgen production. Spironolactone can cause side effects such as fatigue, irregular periods, and fluid retention. You should have your blood pressure and electrolyte values ​​checked regularly during spironolactone treatment.
Hair transplant
Hair transplantation is the most effective hair restoration method for androgenetic alopecia in women. During a hair transplant procedure, your doctor will take hair follicles out from the donor area which is resistant to androgens. Then they will transplant them into the recipient area. The DHI hair transplant method is the method of choice for androgenetic alopecia in women as it does not need shaving, unlike other hair transplant methods. Your doctor will also use a local anesthetic to numb the scalp so you will not feel any pain or discomfort during the procedure.