Certification for Hair Restoration Surgery
Certification for hair restoration surgery means that your surgeon is a board-certified hair transplant surgeon. Hair transplant certification shows that your doctor has excelled in all the necessary skills to do their job the best way possible. This document also promises to compensate for any errors during the surgery. However, the officials declare that it is not possible for a physician to be board-certified and the licenses given are obsolete.
However, there is no such thing as a hair transplant warranty certificate or certification for hair restoration surgery given by accredited. This document has no legal validity. This type of certification is only a piece of paper that is used to convince patients who would like to have a hair transplant procedure free of risks and complications.
In this paper, it is emphasized that the hair transplant surgery will be successful and the patients will have no problem for health issues following the surgery. Although medicine has made progress both technically and technology-wise today, it cannot guarantee that the surgical procedure will be done with no risks and errors. However, hair transplant surgery is a treatment with aesthetic concerns. That is for sure that one can fully satisfy another person's aesthetic concerns and wishes.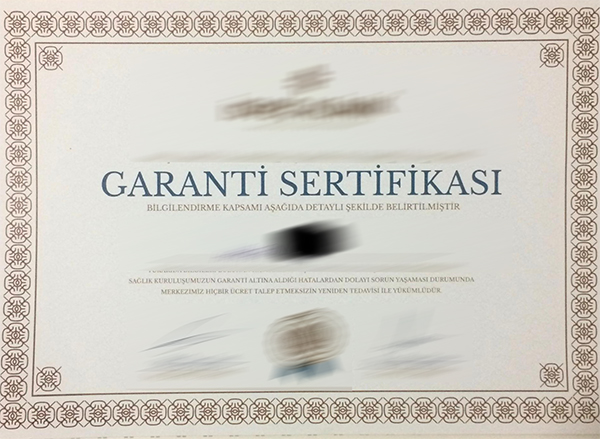 Hair Transplant Certification
Although hair transplantation is a minor operation, it is still a surgical procedure. So nobody can guarantee that any kind of surgical operation will yield only positive results and will have no risks whatsoever. There can be many reasons for errors during a surgical procedure. These errors can result from the mistakes made by the healthcare workers such as nurses, assistants, surgeons. Despite the level of expertise and experience of the surgeon, they can still make mistakes that will provide negative consequences.
The patient's body and physiology may cause unwanted consequences, as well as everybody, has a unique composition and surgeons are not able to calculate all the details by such a unique composition. Plus patient's needs and expectations may differ, leading to unsatisfying results for the patient.
Patients should be very careful about the hair transplant guarantee and assurance documents provided by hair transplant specialists. They should not rely on the warranty document. These guarantee documents do not mean that the procedure will be of no risks.
What Is Diplomat, American Board Of Hair Restoration Surgery?
The American Board of Hair Restoration Surgery defines itself as an internationally recognized board certification. They claim that every physician who is board-certified has participated in the oral and written exams and aced both of them. So they proved their ability to professionally perform safe and aesthetically appealing hair transplant procedures. However, you should know that this certification provides no guarantees about the results of a hair transplant surgery.
Then What Should We Do If We Want To Get The Best Results?
If we want to ensure that a hair transplant procedure will be successful, we must first inquire into the hair transplant clinics in terms of quality and experience. The main points we should take into account are hygiene, experience, and the staff working for the clinic It will take you one step further to a successful hair transplant surgery with minimal risks.
Another point to consider is the education, certificates, work experience, and patient feedback of the healthcare professionals including nurses, assistants, surgeons working in the clinic. Those studied in the schools providing the best education, positive patient reviews, and hygiene standards suffice to promise that the hair transplant surgery will be generally successful. However, you should keep in mind that it is still impossible to guarantee that the hair restoration surgical will be 100% successful.