Hair loss and hair thinning may be caused by some diseases, hormonal issues, accidents, and vitamin deficiencies. Hair transplant is the most effective hair loss treatment with permanent results. Other hair treatments provide an only temporary and partial solution to baldness issues. Hyperbaric hair transplantation is the standard hair transplantation combined with hyperbaric oxygen therapy. This combination aims to augment the results of hair transplantation.
What Is Hyperbaric Hair Transplantation?
It is believed that the amount of dissolved oxygen in the blood will help the healing process after a hair transplant procedure. Because our tissues and cells need oxygen to survive and function well, oxygen treatment aims to maximize the nutrients our cells obtain. During the hair transplantation procedure, our scalp and hair follicles will go through a medical operation. After all medical operations, our tissues need time and the proper amount of nutrients to heal quickly.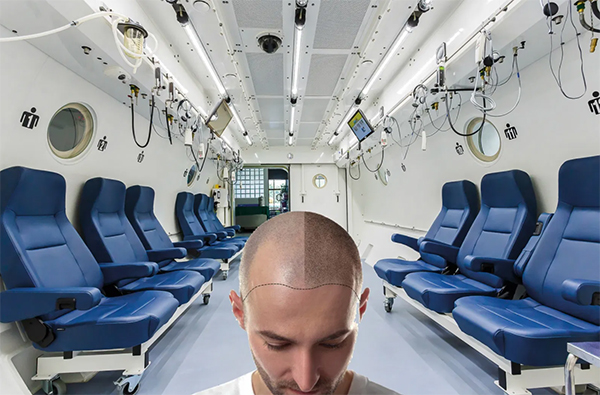 The right amount of oxygen reaching hair follicles will both minimize the risk of infection and help hair follicles to heal and hold onto the scalp successfully. After all, both the patient and the doctor will like to increase the chances that the hair transplant will yield the best results. Your doctor will apply the hyperbaric hair treatment at regular intervals. They will also decide the duration of each treatment session according to your needs.
What Is Hyperbaric Oxygen Therapy?
Hyperbaric oxygen therapy is a medical treatment in which patients breathe almost pure oxygen in a room designed for this purpose. Although it was first used for health problems caused by diving, it is today utilized for many diseases and medical conditions, thanks to the healing power of oxygen. The history of hyperbaric oxygen therapy goes back to the 1600s when a physician builds the hyperbaric chamber, a kind of pressure room, in 1662. It wasn't till the 1900s it has become a standard treatment.
Hyperbaric means that
gas pressure is higher than atmospheric pressure. In these chambers, patients are given oxygen at a gas pressure higher than atmospheric pressure. The aim is to increase the amount of oxygen reaching tissues and organs. Apart from diving related-problems such as decompression sickness, this therapy is used for various health problems and conditions including anemia, carbon monoxide poisoning, necrotizing soft tissue infections, traumatic brain injury, burns, and nonhealing wounds such as diabetic foot ulcer.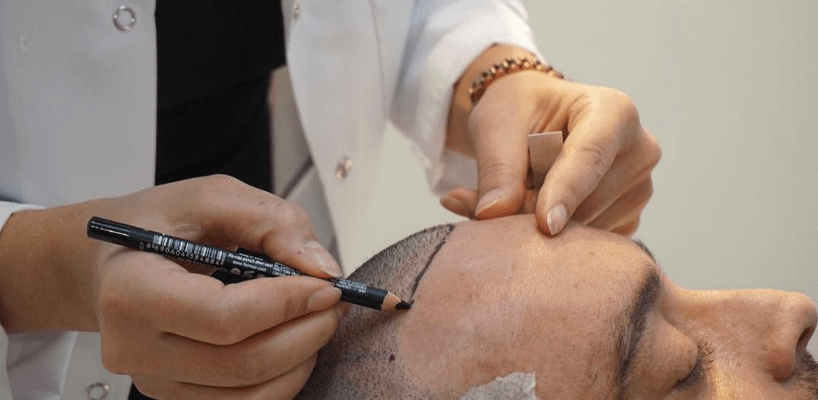 How Is Hyperbaric Hair Transplantation Is Done?
Hyperbaric hair transplantation is not different from classical har transplants however it provided the patients with the benefits of hyperbaric oxygen therapy. Your doctor first performs hair transplant surgery and then apply oxygen therapy. The first steps of hair transplantation are physical examination and preparation. Your doctor should know if you are eligible for the surgery so they will run some tests. And then examine your hair scalp to diagnose the disease-causing hair loss. If it is an autoimmüne disease like alopecia areata or caused by other diseases that may recur, you may not be a good candidate for the hair transplant. This is because your hair may continue to shed, which will eventually cause the hair transplantation to fail.
If they decide you are eligible for the surgery, they will start to collect hair follicles from the donor area. Local anesthesia will be used in the whole procedure so you do not need to worry about pain. They will first numb the donor area and take the hair follicles out. They will then open channels to harvest grafts into the recipient area. They will have drawn a hairline to make a good forehead in the planning stage. Having opened channels, they will transplant the grafts in the balding areas. Grafts are pieces of skin containing a few hair follicles.
After transplanting the hair follicles, your doctor will now proceed to hyperbaric oxygen therapy. You will enter a hyperbaric oxygen therapy room, where the air pressure is two to three times the atmospheric air pressure. During therapy, you will receive 100% oxygen through a special mask. You may feel fullness in your air due to changing air pressure but rest assured this is only temporary. However, you may experience some more serious complications, which we have mentioned below.
Benefits And Advantages Of Hyperbaric Hair Transplantation
The hyperbaric oxygen therapy may provide the hair follicles to receive as much as oxygen they need for a smooth and quick post-operative healing. The ultimate aim of this treatment is to increase the chances of hair transplant procedure success. The purported benefits and advantages of hyperbaric hair transplantation are as follows:
It will increase the circulation to the hair follicles and the maximum amount of oxygen delivered to the hair scalp.

New blood vessels may develop. New blood vessels will help nourish the hair follicles so that they may grow fast and stronger, which will increase the chances that new hair follicles will hold onto the scalp.

It will support wound healing so you will have a comfortable recovery period.

It has anti-edema effects, which may help prevent edema after the surgery.

Supports immune system cells, which will protect against the risk of post-operative infection.
Disadvantages And Complications Of Hyperbaric Hair Transplantation
Although hyperbaric hair transplantation is generally harmless, you may still experience some complications, most of which are minor and temporary. Here are some disadvantages and complications of hyperbaric hair transplantation:
Temporary myopia due to temporary changes to the eye lens.

Middle ear injuries due to air pressure.

Seizures because of too much oxygen negatively affecting the central nervous system.

People with diabetes receiving insulin treatment can experience low blood sugar.

Lung collapse caused by air pressure.

Very rarely there is a risk of fire in the pressure room. So you should not have flammable materials with you.