Why Do Pimples Occur After A Hair Transplant?
Most patients are surprised when they get bumps after a hair transplant. Even though hair transplantation is just a simple medical procedure with minimal side effects or complications, it still causes some changes throughout your scalp and around the newly transplanted hair follicles. During a hair transplant procedure, your doctor takes hair follicles out from the donor area and implants them into the recipient area on your scalp. At first, this seems like nothing harmful however there may be immune reactions to the newly transplanted hair follicles in another part of your scalp. These immune reactions may eventually lead to bumps and redness. Common causes of pimples after a hair transplant are as follows:
Immune reactions to the newly transplanted hair follicles.

The surgical areas may not be kept clean, which makes it prone to infection.

Dust and heat may hurt the area of surgery.

The implanted hair may look like pimples as they start to grow.

The sebaceous glands temporarily secrete oily substances more than before as they are close to hair follicles.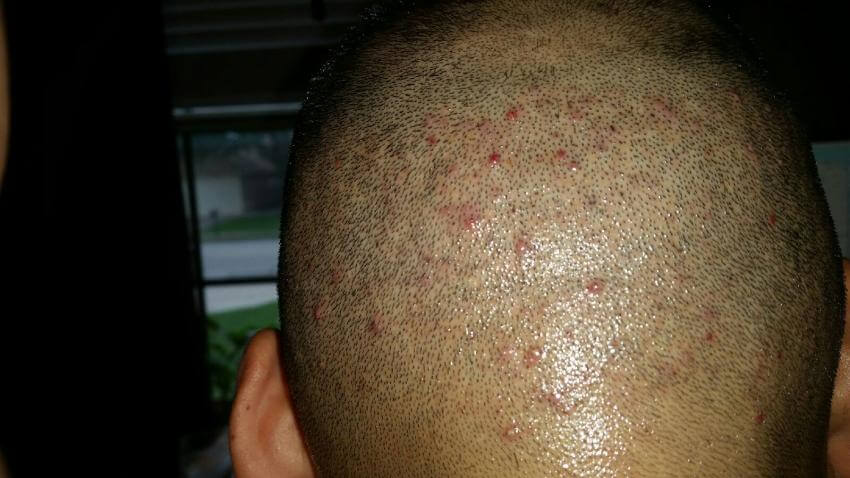 Types Of Pimples After A Hair Transplant
The pimples that appear after a hair transplant are categorized into types by their looks and causes. Here are different types of pimples that may occur after a hair transplant:
Dermoid cysts: Dermoid cysts after a hair transplant differ from the standard dermoid cysts. They may occur if the channels are very deep into the scalp or because the hair follicles are transplanted very deep into the channels. They may be prevented if your doctor transplants them by the rules.
Tiny bumps:Tiny bumps are usually nothing to worry about and they mostly occur if you rub or irritate your scalp. The most common bumps after a hair transplant procedure will most probably go away on their own.
Folliculitis:Folliculitis is a condition where your hair follicles get inflamed. This type of inflammation may be due to a variety of reasons such as cancer treatment, AIDS, diabetes, and eczema, to name a few. Folliculitis is not always seen in hair transplants but an old hair transplant technique FUT is a risk factor. Your doctor will have to cut your scalp to take a strip of skin out. This cut may cause scarring and cause infection in some cases. If you do not take care of your scalp during the recovery period, you may get folliculitis.
How To Treat Pimples After A Hair Transplant
Pimples may cause anxiety at first as it is not expected to get them after such a procedure. Bur rest assured as there are thankfully some treatment options for bumps after a hair transplant. Here are some tips to deal with them:
Use the shampoo recommended by your doctor and do not use any other products on your scalp unless your doctor says so.

Never skip medications prescribed by your doctor. You may need to take them before and after the procedure as recommended by your doctor.

Do not get your hair dyed until your scalp heals completely.

Avoid hot baths as long as your doctor lets you.

Wash your hair gently and do not rub your scalp. Keep in mind that your scalp has been under trauma from the surgery and it needs time to heal completely. In the meantime, it is more sensitive than before and needs special treatment.